IN-B10E Weighing indicator for truck scale
| | |
| --- | --- |
| Categories | Weighing Controller and indicator |
| Brand | Inntronic |
| Model | IN-B10E |
| Catagories | Weighing controller |
| Delivery time | 7-15 work days |
| Original | China |
| Accuracy class | Ⅲ,n=3000 |
| FOB port | SHANGHAI |
| Terms of Payment | L/C, T/T, Paypal |
| Update Time | 2021-09-19 |
Weighing Indicator for Truck Scale IN-B10E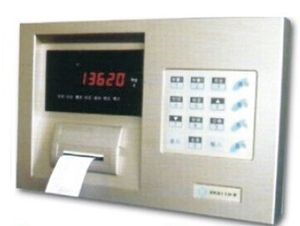 Weighing Indicator for Truck Scale Main Features
◆ AC and DC Power, when equipped with 6 v battery, without the ac power input can also weigh 
    and print as normal
◆ Options for automatic zero or memory start when starting up it
◆ Automatic zero point tracking
◆ Under load alarming and overload warning
◆ Calibration of capacity with keyboard
◆ Non-linearity calibration, automatic dividing value switching
◆ Date, time, truck No., cargo No. setting
◆ Real-time calendar clock, with power-off protection
◆ With weighing situation of truck scale and platform scale. In truck scale weighing state, with single 
     weight mode, double weight mode and pure weight mode, three kinds of weight modes. 
     In platform scale weighing state, with automatic work mode and manual work mode
◆ 500 complete weighing data saving, preset tare weight of 400 different truck No.
◆ Check and print according to the weighing date,,truck No, cargo No.,or serial No.
◆ With micro printer, print demo,various weighing statements and preset tare weight tables, etc, 
     can program the content of weight demo
◆ External line printer, optional vertical and horizontal printing demo list, various weighing statements 
     and preset tare weighing tables, etc
◆ With interface of BCD code,can be connected to large screen display
◆ With function of RS232C and RS485,can be connected to a computer and composed a 
     microcomputer weighing system
Weighing Indicator for Truck Scale Main Technical Parameters
       ◆ A/D sampling rate: 7.5 Times/s~60Times/s optional
       ◆ Accuracy class:  Ⅲ,n=3000
       ◆ Net input signal range of full capacity: 2~15mV
       ◆ Initial weight signal range:  -1~+9mV
       ◆ zero setting range: ±4%FS,±10%FS,±20%FS,±50%FS optional
       ◆ Service temperature range: 0~ 40℃
       ◆ Relative humidity:  ≯ 90%(Non condensing)
       ◆ Power supply:  AC 220V(–15%~ +10%)  50Hz±2%
       ◆ Sensor bridge excitation:  DC 5V , can connect 8 load cells of not less than 800W
       ◆ Equipped battery:  6V/4AH
       ◆DC insulation:   > 5 M W
       ◆Voltage-endurance:   AC 1500V(without breakdown in one minute)
       ◆AC leakage current of power frequency: < 3.5 mA
       ◆Outside dimension:   325mm ´210mm ´180mm
       ◆ Weight:  3.2 kg
       ◆Power consumption:  < 15W
Share Beam Load Cell
NCI Mark V Load Cell
Sensortronics 60048SS Load Cell
Weigh-Tronix Mark V Load Cell
Share Beam Load Cell
Share Beam Load Cell
Capacities

Rated Output

2.0 mV/V

Safe Overload

150%FS

Excitation Voltage

10-20V AC/DC

Input Resistance

385 ± 10 OHMS

Output Resistance

350 ± 3 OHMS

Zero Balance

±1.00%FS

Seal Type

Environmentally sealed, potted IP67

Non-linearity

±0.03%FS

Hysteresis

±0.02%FS

Repeatablity

±0.02%FS

Creep

±0.03%FS

Compensated Temperature Range:

-10℃ - +40℃

Temperature Effect on Zero

Temperature Effect on Output

±0.001%FS/℃

Insulation Resistance

>5000 MEGOHMS

Load Cell Cable

4 Conductor, 10 FT

Load Cell Wiring

Green +EXC

Black –EXC

White +SIG

RED  -SIG

Braid/Yellow: Shield