Weighing System for Loader -WS-LD011
| | |
| --- | --- |
| Categories | Truck Scale |
| Brand | Inntronic |
| Model | WS-LD011 |
| Catagories | Truck scale |
| Delivery time | 7-15 work days |
| Original | China |
| Price | Negotiation |
| Min. capacity | 200kg |
| Division | 1kg,10kg,20kg,50kg,100kg. |
| FOB port | SHANGHAI |
| Terms of Payment | L/C, T/T |
| Update Time | 2021-07-31 |
Weighing system for Loader
Model No.:WS-LD011
Android loader scale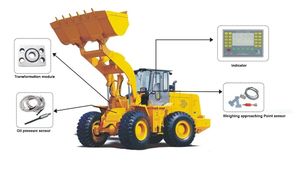 System Characteristic:
Integration:
The weighing system for loader is integration in an industrial intelligent weighing instrument,
both have the convenience of instrument, and have the high performance of industrial computer,
it can achieve the voice and video calls, reversing monitor, send and share weighing data functions
Extensibility:
It can achieve data teletransmission with GMS card or Wifi Module.
Rela-time position, can replay the trace.
It can also extend to compatible with comprise ERP management system
High efficiency:
The Weighing system for loader have high efficiency, the goods name,
reilway wagon/freighter number can beedited randomly, input or import work target in advance.
the system can accumulate the target weighing automatically, alarm function and so on.
Automation:
Weighing, record, save,long-distance transmissio, print, summarizing and so on, the series pipelline operate,
the data can be generated reportpie chart, bar chart and so on.
High security:
Easy operation, High accuracy, ensure safety measurement, integrated circuit, low failure rate, high reliability.
Function characteristics:
*Controlled y the microprocessor, highg intellectualized degree, small volume, and beautiful apperacne
*The weight data can be output though the serial port, USB connection, also can through GPRS
*wireless transmission(optional)
 Bilingual keyboard, can input Chinese/English character, at the same time, keys was equipped with sound and
light automatic reminders to prevent the disoperation.
*Apply Dynamic sampling and fuzzy algorithmic, dynamiccalibration and dynamic weighing can be achieved.
*Muti-mode dual-circuit detection, data accuracy, high precision weighing
*There is no need to stop, the automatic weighign during the lifting process, does not affect the loading efficiency,
can prevent overloading and under load
*the loading time, unit name, goods name, weight, license number and other data can be printed
*240*128mm large-screen display, can display the weight results, the results of weighing, system information, etc.
*Display and keyboard have a sourse of background light, are convenient for the night time operation
*function of overloading auto-alarm, rael-time reminders,to avoid overloading storage memory,
when the electronic scale is shut down, teh weighing data can be automatically saved.
*Metal instrument design, anti-jamming, it can cover a wide range of operating environment.
System structure;
* Oil Pressure Sensor
*Temperature sensor
*Position sensor
*Connecting components
*Weighing Instrument
Working video: https://youtu.be/KpdBWrqah-0 
Installation of the weighing system for loader:

Technical parameters of the system:
| | |
| --- | --- |
| Accuracy | +/-1% |
| Working voltage  | 12+-20%VDC |
| working current | 100mA-500mA                                                             |
| | |
| --- | --- |
| working temperature | high temperature proof-1000°C |
| connection of sensors | Used four cables, automatic compensation |
| Dispaly  | LCD display |
| Time  | Can show the current time and date |
| Keyboard | Used touch buttons,keys fluorescent settings, suit for night operations |
| Division | 1kg,10kg,20kg,50kg,100kg. |
Share Beam Load Cell
NCI Mark V Load Cell
Sensortronics 60048SS Load Cell
Weigh-Tronix Mark V Load Cell
Share Beam Load Cell
Share Beam Load Cell
Capacities

Rated Output

2.0 mV/V

Safe Overload

150%FS

Excitation Voltage

10-20V AC/DC

Input Resistance

385 ± 10 OHMS

Output Resistance

350 ± 3 OHMS

Zero Balance

±1.00%FS

Seal Type

Environmentally sealed, potted IP67

Non-linearity

±0.03%FS

Hysteresis

±0.02%FS

Repeatablity

±0.02%FS

Creep

±0.03%FS

Compensated Temperature Range:

-10℃ - +40℃

Temperature Effect on Zero

Temperature Effect on Output

±0.001%FS/℃

Insulation Resistance

>5000 MEGOHMS

Load Cell Cable

4 Conductor, 10 FT

Load Cell Wiring

Green +EXC

Black –EXC

White +SIG

RED  -SIG

Braid/Yellow: Shield